Radios That Work For Free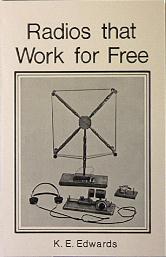 by K.E. Edwards
---
"Radios That Work for Free" is a "How to" Book for all ages. This is a the most comprehensive
work of its kind. Not only does the reader get a new hobby but the skills necessary to continue in
a science and art that needs revival. The projects can be built by the novice with assured success.
Also all the projects are especially adapted for "kitchen table construction." For those who have
been waiting for something to fill their hands and to stimulate their minds, their search is over.
Years of research and countless hours of experimentation have been accumulated to provide this
broad base for the beginner. You will fill many hours building, listening and experimenting with
"Radios That Work For Free"
---
166pp           $12.95

Order Form